Applications: Overview
Smartscan light curtains can be used in a wide variety of applications, samples are shown below. Click the links to learn more: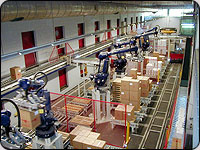 End of line packaging machines present significant hazards. They operate automatically and have openings large enough to allow the passage of pallet loads and therefore provide potential for unauthorized access. Accidents can be caused by entry into the working parts of the machine if proper control of the entry source is not considered.

A robotic work cell needs perimeter protection so that personnel are prevented from coming into contact with the dangerous moving parts of the machine.




A person is required to load and unload product from a machine or from other potentially hazardous areas.