Robotic Work Cells
Application:
A robotic work cell needs perimeter protection so that personnel are prevented from coming into contact with the dangerous moving parts of the machine.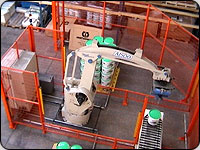 Robotic Work Cells Include:
Welding De-Burring Grinding
Palletising Water Jet Material Handling
Problem:
Basic requirements need to be met. For example, an unobstructed view is needed as well as easy and safe access into the area for manual operations.
Solution:
Smartscan offers a wide range of Light Curtains and accessories, which enable you to custom fit a safety system to meet your requirements.

Light Curtains are available in a variety of shapes, sizes and object detections that maximise safety while minimising cost.

For machines with multiple Light Curtains, special Marshalling Boxes are available to make integration easier. Mirrors give the Light Curtain the ability to guard more than one side of a work area.