Safety Light Curtains
Safety light curtains overview

Safety light curtains are referred to by a variety of common terms including safety light guards, safety light barriers, safety light grids, safety light screens and even simply light guards or light curtains. Technically Safety light curtains fall under the category of Electro-Sensitive Protective Equipment (ESPE) in their respective Safety Standards BS EN 61496-1 2013 and BS IEC 61496-2 2013. In machine guarding applications safety light curtains or safety light guards are used to detect a person or part of a person which then stops the machine / hazardous condition.

Safety light curtains or safety light guards have become more popular as a machine guarding device with Design Engineers incorporating them into an increasing number of applications.

Safety light curtain History
Safety light curtains started out as simple product detection devices and then developed into a machine guarding product. The early safety light curtains used incandescent lamps strung together with a corresponding line of light detectors. One of the first machine safety applications that safety light curtains were used on included Presses. The first Standard for safety light curtains was BS 6491 written in 1984 to consolidate their development.

The use of safety light curtains has spread over the last 25 years or so from this initial machine safety niche to a great range of applications in a variety of Industrial environments, from abattoirs to high tech pick and place machines.

The advent of safety light curtains allowed machines to be guarded that previously had no guarding or had only been partly guarded. A classic example of the adaptation of safety light curtains was in the guarding of pallet entry / exit zones on the in-feed and out-feed to palletisers and stretch wrappers.

Safety light curtain applications

The use of safety light curtains or safety light guards in machine safety will vary with the particular machine application.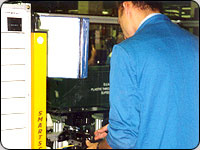 Safety light curtain, Presence sensing Safety light curtains may be used to prevent start-up of the machine. This Presence sensing means that that the infrared beams in the safety light curtain are mounted so that they are blocked by a person or part of the person while they are in the danger area of the machine being operated.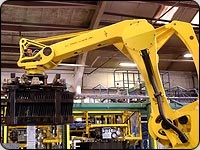 Safety light curtain, Perimeter guarding (Torso Detection). Safety light curtains can also be mounted to form a perimeter guard around a danger zone. The safety light curtain is being used to detect a person walking into the danger area. In this type of application it is necessary to have the facility to manually reset the safety light curtains so that the operator can see that the danger area is clear before re-initiating the machine. The reset must also be positioned where it cannot be activated from inside the danger area.

One of the areas where safety light curtains have seen an increase in use is in replacing fixed guarding or fixed fencing. The use of safety light curtains can lead to a reduction in operator fatigue and improved efficiency of the production process. It should always be noted that safety light curtains do not provide a physical barrier and are used as a method of making the machine safe by electrical means.

What are safety light curtains?

Safety light curtains are made up of a Transmitter head and Receiver head that hold the electronics and optics. Safety light curtains generate a field of infra-red light between the two heads which acts as the detection zone. Interruption of the infrared in the detection zone of the safety light curtain will initiate a stop signal via the 2 safety channels referred to in safety light curtains as the Output Signal Switching Device or OSSD1 and OSSD2.
Please use the following link for the The Health and Safety Executive's guide, HSG180, on the application and use of safety light curtains in safeguarding machinery.